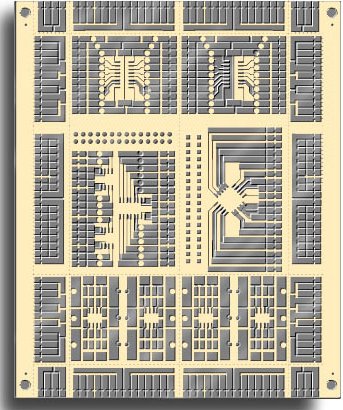 Actual Size: 4.6" x 5.5" (117 x 140mm)
TopLine's SMD Breadboard is scored to snap apart into 20 universal circuits. Designed for 100mil (2.54mm) SIP or DIP connection to mother board. Pads accept all common chips, SOT23, SOIC, PLCC20/44 tantalums, trimmers, potentiometers and more. Plated throughhole, double sided board allows circuit continuation on both sides of PCB.

Features:

Hot Air Soldering Leveling
FR4 Board .062"
Double Sided
Tooling Holes .125"
Fiducial Marks


Click here to download our Kits catalog in PDF format.