Enlarge: Bare Board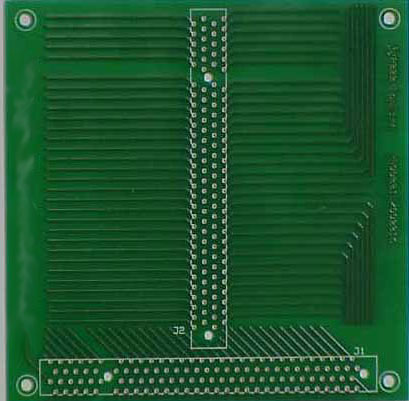 Board Size 4.0"x4.0" (14x14cm)
Click for bottom view


TopLine 120-Pin connector Kit has 2x mounting sites for 4-Rows 0.100" (2.54mm) Staggered Pitch Throughhole connectors. Plated hole diamater Ø24 mils (&Oslash0.61mm).

Total 240 plated holes. AMP connectors. Standard double sided. Avaiable with options such as heavy copper ground plane or multiple layers. Great for applications involving selective solder and solder dipping trials.

Board Features:

Choice of Final finish:
• ENIG (Ni/Au) Gold RoHS
• HASL (Sn/Pb) Tin-Lead

LPI Solder Mask - PSR4000BN Green
FR4 Tg=175°C
Size - 4.0"x4.0" (14x14cm)
Thickness 0.031 (0.8mm) or .062" (1.6mm)
2-Layer Board - Standard
Heavy Copper Optional.
Plated Via Construction.
Tooling Holes .125" (3.17mm)
Fiducials - Not required
Connector: SnPb 1-145154-2 • ENIG 1-5145154-2