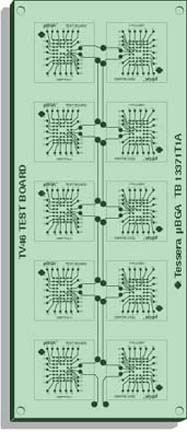 Actual Size: 2.75" x 6.5" (7cm x 16.5cm)
Test board for 46 bump µBGA chip scale components. Each board has 10 coupons which allow for continuity testing of individual components as well as series test of all 10 components.

Parts are supplied in waffle trays. Tape and reel on special orders.

Features:


Gold Plated (ENIG) Au
LPI Solder Mask
Tetra functional FR4 Board .03" (0.8mm)
Single Sided
Tooling Holes .125"
Fiducial Marks

Click here to download our Kits catalog in PDF format.